What Is Ugg?
Ugg boots are a unisex style of sheepskin boot originating in Australia and New Zealand.
The boots are typically made of twin-faced sheepskin with fleece on the inside, a tanned outer surface and a synthetic sole.
The term, ugg boots, originated from Australia, initially for utilitarian footwear worn for warmth, and which were often worn by surfers during the 1960s. In the 1970s, the boots were introduced to the surf culture of the United Kingdom and the United States.
Sheepskin boots became a fashion trend in the U.S. in the late 1990s and as a worldwide trend in the mid-2000s. In Australia, they are worn predominantly as slippers and often associated with "daggy" fashion sense and "bogan" culture
Story Of Ugg
In 1978, Brian Smith landed in Southern California with a bag of sheepskin boots and hope. He fell in love with the sheepskin experience and was convinced the world would one day share this love.
The beaches of Southern California had long been an epicenter of a relaxed, casual lifestyle, a lifestyle that Brian felt was a perfect fit for his brand. So he founded the UGG brand, began selling his sheepskin boots and they were an immediate sensation.
By the mid 1980's, the UGG brand became a symbol of relaxed southern California culture, gaining momentum through surf shops and other shops up and down the coast of California, from San Diego to Santa Cruz.
UGG boots reached beyond the beach, popping up in big cities and small towns all over, and in every level of society.
Girls wore their surfer boyfriend's pair of UGG boots like a letterman jacket. When winter came along, UGG boots were in ski shops and were seen in lodges from Mammoth to Aspen.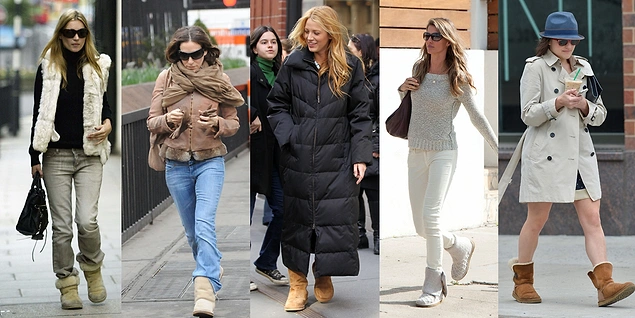 The UGG brand began to symbolize those who embraced sport and a relaxed, active lifestyle. More than that, an emotional connection and a true feeling of love began to grow for UGG boots, just as Brian had envisioned.
People didn't just like wearing UGG boots, they fell in love with them and literally could not take them off. By the end of the 90's, celebrities and those in the fashion world took notice of the UGG brand.
A cultural shift occurred as well – people were embracing, and feeling empowered, by living a more casual lifestyle and UGG became one of the symbols of this lifestyle.
By 2000, a love that began on the beaches had become an icon of casual style. It was at this time that the love for UGG grew in the east, over the Rockies and in Chicago. In 2000, UGG Sheepskin boots were first featured on Oprah's Favorite Things® and Oprah emphatically declared that she "LOOOOOVES her UGG boots." From that point on, the world began to notice.
Breaking into the New York fashion world is no easy task. But by the early 2000's, UGG began to take it by storm. The evolution of UGG from a brand that made sheepskin boots, slippers, clogs and sandals for an active, outdoor lifestyle to a brand that was now being touted as a symbol of a stylish, casual and luxurious lifestyle was swift.
Much of this was due to a brand repositioning effort that transformed UGG into a high-end luxury footwear maker. As a fashion brand, UGG advertisements now graced the pages of Vogue Magazine as well as other fashion books.
In the mid 2000's, the desire for premium casual fashion was popping up all over the world and UGG was now perfectly aligned with this movement.
Fueled by celebrities from coast to coastwearing UGG boots and slippers on their downtime, an entirely new era of fashion was carved out. As a result, the desire and love for UGG increased as people wanted to go deeper into this relaxed UGG experience. UGG began offering numerous color and style variations on their sheepskin boots and slippers.
Cold weather boots for women and men and leather casuals were added with great success. What started as a niche item, UGG sheepskin boots were now a must-have staple in everyone's wardrobe.
More UGG collections followed, showcasing everything from knit boots to sneakers to wedges, all the while maintaining that luxurious feel UGG is known for all over the world. UGG products were now seen on runways and in fashion shoots from coast to coast. Before long, the love spread even further.
When the New York fashion community notices your brand, the world soon follows. The widespread love for UGG extended to Europe in the mid-2000's along with the stylish casual movement and demand for premium casual fashion.
UGG boots and shoes were now seen walking the streets of London, Paris and Amsterdam with regularity. To meet the rising demand from new fans, UGG opened flagship stores in the UK and an additional location in Moscow. As the love spread farther East, concept stores were opened in Beijing, Shanghai and Tokyo.
UGG is now an international brand that is loved by all. This love is a result of a magical combination of the amazing functional benefits of sheepskin and the heightened emotional feeling you get when you slip them on your feet. In short, you just feel better all over when you wear
UGG boots, slippers, and shoes. In 2011, UGG will go back to its roots and focus on bringing the active men that brought the brand to life back with new styles allowing them to love the brand again as well. Partnering with Super Bowl champion and NFL MVP Tom Brady, UGG will invite even more men to feel the love the rest of the world knows so well.
UGG will also step into the world of high fashion with UGG Collection. The UGG Collection fuses the timeless craft of Italian shoemaking with the reliable magic of sheepskin, bringing the luxurious feel of UGG to high end fashion.
As the love for UGG continues to spread across the world, we have continued to offer new and unexpected ways to experience the brand. The UGG journey continues on and the love for UGG continues to spread.
Design
Traditional Australian ugg boots are made from sheepskins with fleece attached. The fleece is tanned into the leather and the boot is assembled with the fleece on the inside.
Some ugg boots have a synthetic sole, commonly made from Ethylene-vinyl acetate (EVA).
The stitching is often prominent on the outside of the boot. The natural insulative properties of sheepskin gives isothermal properties to the boots: the thick fleecy fibres on the inner part of the boots wick moisture and allow air to circulate, keeping the feet at body temperature and allowing the boots to keep feet warm in cold weather and cool in hot weather.
Produced by a number of manufacturers, they come in a variety of colours, including black, pink, blue, chestnut, and fuchsia. They are available in both pull-on and lace-up varieties and their height can range from just above the ankle to above the knee.
Some variations of ugg style boots have also been made from kangaroo fur and leather. There are also synthetic boots. Although derided as "fake" by some in the industry, their lower price made them appealing to large retail chains such as Myer.
Is Ugg Waterproof?
Ugg still tells customers to blot away any moisture immediately after spillage, and recommends that its care kit be reapplied every six to eight months. And, because the shoes are not waterproof, rain and snow can still seep through — so, it's still probably not a good idea to go jumping in puddles in your precious, brand-spankin'-new Uggs.
The classic ones are sheepskin suede which is not waterproof.
Even if you treat them with a water repellent spray they will still get wet in prolonged exposure to wet conditions.
So they are not ideal for wearing while walking through deep snow, especially wet snow.
They will also get wet and stained in slushy conditions where salt or ice melt is used to melt snow and ice.
They are not a purpose-built snow boot.
UGG actually makes snowboots which are smooth leather with rubber waterproof soles
Does Ugg Use Real Fur or Kill Sheep?
Like leather, which is the treated hide of a cow, sheepskin is the treated hide of a sheep. UGG sources sheepskin from sheep that were raised for food. UGG does not raise sheep and only purchases sheepskin from suppliers that comply with strict animal welfare policy.
Does Ugg Make Half Sizes?
However, Ugg fashion boots and rain and weather styles have a tendency to run more true to size, and are often available in half sizes. For these styles, Ugg would usually recommend ordering your regular size. Specific fit information may also be listed on the product page.
Most of men's products run true to size. Ugg recommends ordering your regular size in the men's Classic Collection, or going down a half size if you're in between sizes.
Children's products also tend to run more true-to-size, and Ugg suggests ordering your child's true size. Because little feet grow fast, you may want to consider going up if between sizes.
How to Clean Uggs?
Never wash your Uggs in the washing machine or dry them in the dryer! To clean suede Uggs: Wet the boots slightly. Gently scrub them with mild detergent, like wool cleaner.
Do Uggs Run Big?
Yes, Ugg boots run big. … Ugg classic styles run a size large. Shoe stores usually say to get a size smaller, since the sheepskin matts down.
Can I Wear Uggs in the Snow?
Sheepskin Boots are the best thing to meet when you come back to your chalet after a wonderful day of ski. Snow boots off, sheepskin boots on – Perfect!
Traditional Sheepskin Ugg Boots are not suitable for snow, People naturally associate snow with sheepskin boots due to their warmth. However sheepskin boots are not water proof and taking them in deep snow will saturate them resulting in freezing feet.
Outdoor Boots range will provide you with some limited protection, however these will only protect you from a couple of cm of depth. They should not be used to replace ski boots or gum boots.
Do Uggs Stretch?
Sheepskin boots will stretch wherever there is pressure around your feet and legs. Generally we see sheepskin boots stretch up to half a size.

Unless you prefer a loose fitting, your new sheepskin boots should be very snug. Your toes however should not be curling or hurting. The snugness should be felt over the bridge of your feet. Your heel should be firmly in place without moving up and down.
Are UGGs Really Comfortable?
Uggs are so comfortable. This footwear and apparel brand uses the highest quality products, bringing Ugg shoppers like you only the best when it comes to looking and feeling great.