Revitol Eczema Cream is a skincare formula that is efficient in combating itchiness and future breakouts. This product prevents skin irritation and prevents redness.
The supplement is made of ingredients that prevent eczema, a condition that is caused by environmental factors, lack of well working immune system and lack of moisture on the skin due to poor circulation of moisture which is prevented by barriers on the skin.
This cream does not cause any adverse effect on children since the ingredients are natural and they make your skin gentle and gives you comfort. This product has gentle colloidal oatmeal elements which protect your skin making it healthy.
What is Eczema?
Eczema is a condition where patches of skin become inflamed, itchy, red, cracked, and rough. Blisters may sometimes occur.
Different stages and types of eczema affect 31.6 percent of people in the United States.
The word "eczema" is also used specifically to talk about atopic dermatitis, the most common type of eczema.
"Atopic" refers to a collection of diseases involving the immune system, including atopic dermatitis, asthma, and hay fever. Dermatitis is an inflammation of the skin.
Some people outgrow the condition, while others will continue to have it throughout adulthood.
What causes eczema?
We don't know what exactly causes eczema. However for most types of eczema, researchers believe a combination of genes and a trigger are involved.
People with eczema tend to have an over-reactive immune system that when triggered by a substance outside or inside the body, responds by producing inflammation. It is this inflammation that causes the red, itchy and painful skin symptoms common to most types of eczema.
Research also shows that some people with eczema have a mutation of the gene responsible for creating filaggrin. Filaggrin is a protein that helps our bodies maintain a healthy protective barrier on the very top layer of the skin.
Without enough filaggrin to build a strong skin barrier, moisture can escape and bacteria, viruses and more can enter. This is why many people with eczema have very dry and infection-prone skin.
Manufacturer Information and Claims about Revitol Eczema Cream
Revitol Eczema Cream is manufactured by the company known as Revitol. The manufacturer claims that this cream works faster in reducing itchiness on the skin making you comfortable.
The manufacturer claims that it is made of natural ingredients which work together in prevention and elimination of eczema giving you confidence and healthy skin.
The manufacturer claims that this formula combats red patches on the skin making it look beautiful. The skincare cream is claimed to prevent inflammation of the skin giving you a smooth and gentle skin.
The manufacturer also claims that people who have used the cream have come out as real life instances that this product gives desired results with no side effects on your skin.
Working Process and the Ingredients List
This skincare formula helps in combating signs of eczema. It reinstates the normal condition of your skin and also works well using the following ingredients:
Colloidal Oatmeal – Helps in hydration and moisturizing of the skin. It prevents inflammation of the skin thus giving you a soothing effect. This ingredient eliminates itchiness and makes it gentle such that it can be applied on fragile skin of children.
Oatmeal – Has flavonoids which serve as an antioxidant that prevent the skin from being damaged by the free radicals.
Phenols and Saponin – Which engross dirt, bad smell and oil thus leaving skin clean. It helps in balancing of Ph of your skin aiding in control of bacteria and infection.
Ceramides – This assists in hydration of your skin. It also creates a layer on the skin which protects it from harmful elements.
Does it Really Work?
Yes. This formula aids in reduction of itchiness on the skin giving you comfort. This cream minimizes eczema signs on your skin.
This cream is comes highly recommended by dermatologists. This is because it uses all natural ingredients and was developed by leading dermatologists.
It is currently FDA approved and has a clinically proven all natural formula that relieves symptoms on contact and helps prevent eczema flare-ups. In addition to treating outbreaks, the product is easy to apply and is mess-free.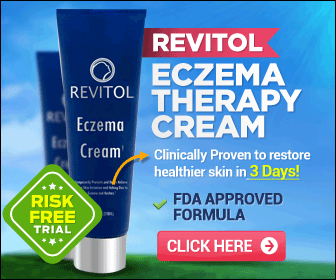 The Advantages of Revitol Eczema Cream
It minimizes signs of eczema or completely removes them.
It prevents redness on your skin making it look good and beautiful.
Reduces itchiness on your skin.
Eliminates skin rashes.
Minimizes inflammation on your skin.
Prevents dryness on the skin caused by eczema condition which makes it itchy through moisturizing ad hydrating it.
Benefits
Here are some of the benefits of Revitol Eczema Cream;
Soothes Itchiness
Moisturiser
Reduces Redness
Reduces Inflammation
Symptom Relief
Recommended by Experts
Fast Acting Formula
Natural Ingredients
Fast Delivery
Cost Effective
Possible Side Effects
This skincare cream is made of natural ingredients for aiding prevention of eczema rashes and itching thus you should not anticipate any adverse effects on your skin when applying it. However, it is prudent for you to research more on the components to determine if they are safe or not before using the product.
Verdict
Revitol Eczema Cream is a formula that has been designed to prevent inflammation on your skin thus leaving it on a normal state. This skincare cream eliminates rashes on the skin giving you comfort and confidence.
It establishes a barrier on your skin after applying which prevents harmful substances from getting in via the pores of the skin leading to a healthy skin.
This product removes all signs of eczema through eliminating itchiness, redness and boosting hydration and moisturizing of the skin. It is made of natural ingredients which are not dangerous on the skin hence safe for usage on children and for adults too.
The manufacturer claims that this product has been clinically tested by best dermatologists thus it has been proved to be safe and give better results. It may deal with rashes on your skin without causing any adverse effects and itchiness.
So you should try it!