If you watch the late-night and early-morning television news on CNN, FOX, ABC, CBS, or NBC in the United States, chances are that you have seen an advertisement for the acne-fighting duo of Acnezine (made by Revitol).
Offering an antioxidant supplement and a moisturizing cream, Acnezine advertises itself as a complete skin care management system that can clear your skin in just weeks.
What's In Acnezine?
Acnezine's moisturizing cream (more like a gel) is a 5% benzoyl peroxide gel mixed with allantoin, aloe juice, birch extract, bilberry extract, green tea extract, citrus extract, lemon peel oil, and tea tree oil, along with a dozen more natural ingredients.
Acnezine's antioxidant supplement offers 67% of the recommended daily intake of vitamin E, 83% of the recommended daily intake of vitamin C, 88% of recommended daily intake for vitamin B2 (riboflavin), 100% of recommended daily intake for vitamin B1 (thiamin), 416% of recommended daily intake for vitamin B12 (cyanocobalamin), and 1250% of recommended intake of vitamin B6 (pyridoxine HCl), along with 50 mg of alpha-lipoic acid, 10 mg of CoQ10, 30 mg of curcumin (the antioxidant found in turmeric), and a small amount of proline from chicken collagen and trace amounts of other herbs and nutrients.
Does Acnezine Work?
The reason Acnezine works is due to an active ingredient called Benzoyl Peroxide. Benzoyl Peroxide is a well known medication to treat acne and works by decreasing the number of acne-causing bacteria on the skin.
This is the main force behind Revitol Acnezine working to reduce outbreaks.
In addition to Benzoyl Peroxide, this acne solution has many other inactive ingredients which all work together to form an effective and natural rosacea treatment.
Some of the main inactive ingredients in this cream are: Allantoin, Aloe Barbadensis Leaf Juice, Benzyl Alcohol, Hamamelis Virginiana, Honey, Sugar Cane Extract and Camellia Sinensis Leaf Extract.
While many of the popular products on the market to fight pimples treat superficial breakouts, Acnezine is said to really cure acne and heal skin by going deep and therefore preventing future breakouts.
Acenzine is a comprehensive solution to stubborn acne problems. It works by targeting acne from both side of your skin – The Inside, and the Outside.
With their advanced blend of natural ingredients, they've crafted a safe, efficient Herbal Supplement that can help rid your body of the toxins and bacteria that have been clogging up your pores.
Once your pores begin to breathe a little better, the new topical Acnezine solution can clear the dirt and debris from deep inside the skin's surface.
Acnezine uses patented "Acne Targeting" technology and only uses clinically-proven ingredients that are third-party tested, and crafted in FDA approved labs.
In short, you're getting the best ingredients that the experts know work for people just like you.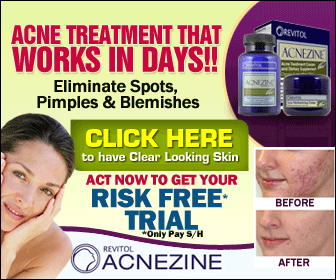 Why Choose Revitol's Acnezine?
Acnezine is the ultimate breakthrough acne system that helps you treat your acne both internally and externally.
Unlike the majority of acne treatments, Acnezine works in a deep level to reduce or even eliminate the root causes of acne fast, naturally and without the negative side effects of chemical treatments.
The "Acnezine" formula utilizes the potent action of antioxidants, vitamins and herbals such as vitamin E, Aloe Vera and Collagen which are widely known for their detoxifying and skin regeneration properties.
Some people experience more outbreaks at first but do not worry- this is a vital step of the detoxification process and a sign that the product works.
Ingredients
Vitamin C
Vitamin C can boost our immune system which helps keeps bacteria out of the body which can make us sick and cause skin issues as well. It is an antioxidant that also helps improve our complexion by increasing skin elasticity.
Vitamin E
Vitamin E is also an antioxidant that improves skin elasticity. Because it is an antioxidant, it can prevent free radicals from damaging the skin. Free radicals destroy the skin and speed up the aging process causing wrinkles and fine lines.
Vitamin B6
Vitamin b6 is another B-vitamin in this stack that is needed for healthy skin, but too much of it can actually increase acne especially in females.

Vitamin B12
Vitamin b12 is part of the B-vitamins which help keep our body functioning properly. When it comes to skin health, taking too much of b12 along with b6 may increase breakouts in some people.
Vitamin B1
Vitamin b1 is also known as Thiamine and is a water soluble vitamin. It has been shown to have antioxidant properties just like the other B-Vitamins which can help overall skin health by reducing the appearance of wrinkles and smoothening out fine lines.
Vitamin B2
Vitamin b2 is also known as Riboflavin and is important for skin health as a deficiency in this vitamin can cause breakouts and other skin issues on the face.

Many people who suffer from severe acne are put on a prescription antibiotic by their doctor called Tetracycline, but if you take vitamin b2 in conjunction with this antibiotic it may not be as strong as riboflavin decreases it's effectiveness.

Aloe Vera
Aloe Vera has numerous health benefits for our body including reducing inflammation, boosting our immune system, and increasing collagen production which all play a role in minimizing breakouts.
Alpha Lipoic Acid
ALA increases the effectiveness of the antioxidants contained in this supplement which includes all of the B-Vitamins, Hyaluronic acid, and CO-Q10. It may also help with decreasing inflammation on it's own.
Bioperine
Bioperine is also known as Piperine which makes the B-vitamins in this stack more effective as it increases their bioavailability or absorbency.
Collagen Type 2
Collagen is a natural protein which is beneficial for our health in numerous ways as it helps hair, skin, nails, joint, and overall functioning of the human body.
Not all collagen is the same though as there are three types which serve different functions in the body. Type 1 collagen is considered to be the best for beauty and anti-aging as found in this study.
The collagen that is added into this supplement is type 2, which is actually better for joint and bone health rather than for skin health like type 1.
All collagen can be beneficial for our skin, but type 1 would probably be more effective in this supplement than type 2.
CO-Q10
Co-Enzyme Q10 is another antioxidant that helps protect against free radicals especially damage from ultraviolet rays which can cause early signs of aging.

Curcumin
Curcumin has been shown to reduce inflammation in the body as it is a component of turmeric, but it is not an ingredient that is effective specifically for acne.
When taken with Bioperine the bioavailability is even greater.​
Hyaluronic Acid
Hyaluronic acid is a common ingredient in many anti-aging serums because it is a vital part of giving skin a youthful appearance. It also has the ability to absorb and replenish water in the skin which keeps it from becoming too dry. This ingredient may help the appearance of a scar, but may be more effective in topical form.
How To Use Acnezine?
It's important to properly cleanse the face before applying any type of topical cream such as Acnezine medication.
We recommend the best face cleansers here which you might want to use beforehand to maximize the results.
After cleansing your face, you want to dry it and apply the cream to all areas of your face that are affected by gently rubbing the cream into the affected areas.
There are full instruction on the packaging you should read carefully before using as with any other medication.
VERDICT
So does Acnezine work and is it the best acne treatment on the market?
It does seem to work very well for many people, and the fact that it's been sold and has been very popular for quite some time tells it's own story. In fact, Revitol has been around for some time, being founded in 2002.
The important thing to keep in mind is that this product consists of two different treatment and really is a complete solution. These two products work together to achieve much faster results to combat whitehead and blackheads which is great.
But the main problem is that the product can be harsh for those with sensitive skin due to the risk of dry skin as a result of benzoyl peroxide, which is contained in the cream.
So to conclude this Acnezine Review; yes this solution does work for many people, which leads us to recommend trying it out.