Do you find it difficult to eat a healthy diet because you are concerned about carbs? If you said yes then you are not alone. 
Many people enjoy savoring foods like cakes, pastry, pasta, ice cream and chips. Regrettably, they are laden within carbohydrates. What can you do if you don't want to gain weight without eliminating these mouth-watering food from your diet?
If you want to continue eating your favorite starchy food without increasing your weight, then you need to check out Dietrine Carb Blocker.
This starch blocker can help you to curb your cravings for these appetizing carbohydrate food, make you feel energetic, and prevent fat storage in your body.
If you're the sort of person who loves foods rich in carbohydrates, it's highly likely that you've considered some of the carb blockers available to today's dieters.
Dietrine is one such product; this solution claims to provide a block against some of the calories found in high-carb meals, thereby quickening the slimming programme.
According to the manufacturers, those who take Dietrine can continue to enjoy carb-rich foods such as bread, pasta and cereal, without piling on the pounds as a result. But does the product live up to its marketing?
What is Dietrine?
Dietrine Carb Blocker diet pill is a product of Pharmachem Laboratories, one of the oldest running company in the health industry. This diet pill is formulated with the so called Phase 2 formula, which aims to help curb your appetite on carbohydrate-rich foods.

While there are hundreds of carb blockers out there, Dietrine seems to be one of the most popular brand online. Based on its website, it shows that the product is free from harmful chemicals and stimulants that makes it one of the most effective and safe diet pill in the industry.

What the pill does best is to block your body's absorption of carbs, which helps prevent storage of unwanted fats. Plus, Dietrine can give your body an instant boost of energy, which is a crucial benefit if you want to prolong your other weight loss endeavors such as exercise.

The product's Phase 2 or phaseolamin 2250 is a starch neutralizer which is based from white kidney bean extracts, a common compound called Phaseolus vulgaris.

This Phase 2 starch neutralizer formula is not a stimulant ingredient, which means that it is perfectly free from any stimulant-caused side effects.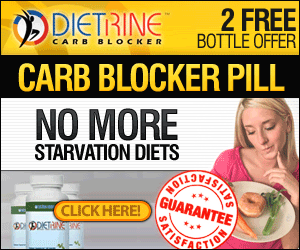 How Does Dietrine Carb Blocker Work?
During the digestive process, your body converts carbohydrates, found in starchy foods such as potatoes and pasta, into sugar.
Your body does this by breaking-down the carbohydrate molecule with alpha amylase, an enzyme that is produced in the pancreas.

These sugar calories are either burned off, through exercise, or stored as fat cells for future use. Unfortunately, inactivity means that these stored fat cells accumulate.
The result is weight gain. Dietrine Carb Blocker with Phase 2, an exclusive, all-natural nutritional ingredient extracted from white kidney beans, "neutralizes" the digestive enzyme alpha amylase before it can convert starch into glucose, thereby reducing the amount of carbs absorbed.
Essentially, it allows the carbohydrates to pass through the system with less caloric intake. Preliminary research and clinical studies indicate that the Phase 2® starch blocker may reduce the absorption of starch, thereby reducing the amount of carbs absorbed, resulting in significantly less net caloric intake.

Are Carb Blockers Safe?
Yes! Dietrine Carb Blocker is absolutely 100% safe and effective. Dietrine Carb Blocker is 100% natural with no known side effects.
There are no known interactions with any other herbal dietary supplement or drug. Carb Blocker contains no ephedra, no ma huang, no ephedrine and no stimulants of any kind and are extremely safe if taken as directed.

Ingredients of Dietrine
Aside from white kidney bean extracts, Dietrine contains Chromium, a compound that helps produce normal blood sugar and is also known as a fat transporter.

Chromium plays an important function in the carb-blocking properties of Dietrine. It mainly helps insulin to stabilize the metabolism of carbohydrates, proteins and fats. Aside from that, chromium is also good for the heart and is a necessary compound for functions of the pancreas and insulin production.

Vanadium is another potent but natural ingredient of Dietrine. What is does is to improve your cellular metabolism and help strengthens your bones and teeth.

Vanadium is also responsible for inhibiting cholesterol synthesis while having a vital role in growth and reproductive system of the body. Both chromium and vanadium are essential elements that supports Phase 2 formula that leads to Dietrine's efficiency.

Advantages Of Dietrine Carb Blocker
The advantage to these types of diet pills is that there is no need to search (and pay extra) for a low-carb version of a particular food, and often low-carb versions may be nowhere to be found.
You are also more likely to stay on a low-glycemic diet plan because you can include more variety and be less strict. You might just really want some mashed potatoes, and with these supplements you are not really cheating.
You also do not have to worry about such things as whether you need to go buy whole wheat pasta or not or whether to buy the high-priced version that has lower "net-carbs".
VERDICT
The Dietrine is a highly effective carb blocker. It contains an effective carb blocking ingredient called Phase-2 derived from white kidney beans.
The Phase-2 ingredient actually limits the digestive enzyme alpha amylase that prevents carb from getting broken down into glucose and getting absorbed in your body. If they don't get broken down they will pass through your body without getting converted into fat.
The Dietrine carb blocker also contains chromium and vanadium that promotes healthy and safe weight loss. It contains 100% natural ingredients and is free from any side-effects. All you get from this diet pill is safe and effective weight loss.