What Is BoilX?
Boilx is a solution, which claims to help prevent you from getting boils and reduce the effects caused by boils on the body. It is formulated using natural and safe ingredients, and it delivers effective results within a short period of use.
This formula will relief from symptoms like pain, sensitivity, itching, inflammation and stinging.
This product uses potent ingredients, which starts to work immediately after use and it treats boils from the source.
It comes in form of a spray, which is convenient and easy to use.
It is applied under the tongue and it gets absorbed to deliver its active ingredients. Using it will relief you from pain associated with boils and prevent frequent boil attacks.
A single bottle of this formula goes for a price of $39.95. This price is reduced when you make bulk purchases.
What Are Boils?
A boil is a skin infection that starts in a hair follicle or oil gland. At first, the skin turns red in the area of the infection, and a tender lump develops.
After four to seven days, the lump starts turning white as pus collects under the skin. If the infection spreads to the deeper tissues of the skin, then it becomes an abscess or furuncle.
The most common places for boils to appear are on the face, neck, armpits, shoulders, and buttocks.
If several boils appear in a group, this is a more serious type of infection called a carbuncle.
Inflammation of hair follicles is called folliculitis, which can develop into a boil. This is common in the public area, especially after shaving.
Hidradenitis suppurativa, also called acne inversa, is a skin condition characterized by lumps under the skin, which often resemble pimples, particularly in the armpits, groin, and buttocks. It looks like boils but is not the same condition.
What Causes Boils?
Boils are usually caused by a bacteria called Staphylococcus (staph). Some staph infections develop into abscesses and can become serious very quickly.
This germ can be present on the normal skin and enters the body through tiny breaks in the skin or by traveling down a hair to the follicle.
The tiny breaks in the skin may be caused by cuts, scrapes, shaving, ingrown hairs, insect bites, or even skin diseases or conditions.
Manufacturer Information and Claims about Boilx
The manufacturer of this product claims to use natural and quality ingredients. It have manufactured this product in form of a spray, which is convenient and safe for use. The manufacturer sells this formula online via the brands website.
The manufacturer have posted credible information about this product, which helps to direct the users and make them informed ahead of buying this formula.
Working Process and the Ingredients List
This product is sprayed under the tongue, and it gets absorbed to deliver its benefits in the body. It is highly effective and it starts to work immediately after use.
This formula will treat boils from the origin, thus delivering quality and long lasting results.
Using it as instructed will help to treat boils and the effects that result after one gets boil infections. It also prevent future attack and relief you from symptoms like itching, redness, inflammation and other reactions.
It also helps to treat the bacteria responsible for boil infections. Use of this product will improve your skin health and overall wellness.
The ingredients used in manufacturing this formula are natural and safe. They include the following:
Anthracinum 30x – That helps to eliminate boils.
Baptisia Tinctore 3X – Which is also called black indigo and it helps to relief from soreness and pain. It also boosts the body natural resistance.
Calcarea picrica 6X – That is useful in reducing the pain and in eliminating boils.
Echinacea Angustifolia 3X – Which helps to reduce itching and burning sensation on the skin. It also have other uses like treating diphtheria, gangrene and enteric fever.
Hepar Sulpher 200c – Which is useful in reducing itchiness, pain and swelling.
Mercurius corrosivus 200C – That treats skin infections and boost overall wellness.
Pyrogenium 200C – That helps to treat soreness and boost overall wellness.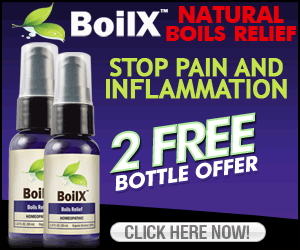 Boilx Review- Does it Really Work?
This product is highly effective and it works as it claims due to the nature of the quality ingredients used. It starts to working immediately and its use will relief you from boils, inflammation, itchiness, skin conditions and the effects of boils. It will also prevent future attack.
The Advantages of Boilx
It is manufactured using natural ingredients
It is convenient and easy to use
It helps to treat boils
It prevents future boils attack
It reliefs from pain, inflammation, itchiness and other skin conditions
It improves he skin health
It treats boils from the origin
It is highly effective
Who's Skin Boil is BoilX Right For?
BoilX is right for all kinds of people suffering from the condition except for people who are in any of the categories or conditions below:
In that case, Skin boil relief may not be right for you if:
• You are pregnant.
• You are breastfeeding or a nursing mother
• You are under the age of 12
Note: If you're in any of the conditions above and you want to take BoilX, it's very imperative for you to consult a physician or your doctor before doing so.
A caveat must be handed down at this point so that you understand the nitty gritty of BoilX and why it might work for others and not work for you.
One thing you should know is that our body systems differ and so is how we react to things.
It's, therefore, important that will consider this when reading a review so that we wouldn't just jump to the wrong conclusion that it doesn't work.
Are there any Side Effects or Warnings Associated With Using BoilX?
Considering the fact that BoilX is a homeopathic remedy made from only natural and active ingredients and also the fact that it has been around for quite some years now with several positive user's reviews everywhere on the net, one can be rest assured that it's a safe product to use without having to worry about having any side effects after use.
However, it might be very useful to state here once again that children under 12, nursing or pregnant mothers shouldn't use it unless they consult their physicians first.
This warning is clearly stated on the label of the product once you buy it and you shouldn't joke about it.
Except for this warning, BoilX is a completely safe and natural boil remedy for anyone suffering from this condition to try.
However, there are few people who complained they did not get any result after using the product.
Final Verdict
Boilx is a formula designed to help treat boil infections and prevent future attack. It contains natural ingredients, and it works immediately to deliver long lasting results. It comes in form of a spray, which is easy and convenient to use.
This product might help to reduce inflammation, redness, itchiness and other skin conditions associated with boil infections. It also helps to eradicate the bacteria responsible for causing boils. You can definitely try this product.