The TC1200 Tactical Flashlight
The TC1200 is designed to meet the requirements any user would expect of a tactical flashlight. The amazingly bright flashlight (with up to 1200 lumens) is powered by the highly advanced CREE LED technology.
It comes with a compact shape and a lightweight design; you can easily put it in your pocket or toss it in the glove-box of your car.
The CREE LED technology generates up to 20% more maximum output than standard flashlights.
The flashlight comes with the qualities a user would expect of any durable and reliable military-grade tactical flashlight. This is an incredible all-round flashlight for use not only in the outdoors but at work and around the household as well.
The 1Tac website states this output is achieved with a 10 Watt Cree XM-L2 LED. Powering this 10 watt light can be either 3 AAA batteries or a single 3.7 volt 18650 Lithium Ion battery. The TC 1200 has a hard case which includes a nylon sheath, lithium ion battery, AC charger and a 12v car charger. Charging and power supply options are a good thing.
Featuring a zoom lens, the TC 1200 has the ability to provide both a wide circle of light or a focused condensed beam. But not at the same time.
The TC1200 features 5 light modes that can be accessed with a tap of the rear orange button. High, Medium, Low, Strobe & SOS. With only an IP65 waterproof rating, (no dust ingress and withstanding water jets from any angle) the TC1200 is not rated to be submerged. Furthermore, this torch is no lightweight at 6.7oz (with the lithium ion battery installed).
Key Features and Specifications
Unlike most other similar products on the market, the TC1200 features five modes which include low mode, medium mode, high, SOS, and the Strobe Settings mode. Other key features include the following;
• Cree LED emitters
The flashlight comes with Cree XML2 LED emitters with up to 100, 000 lamp-life hours. It is capable of focusing five different LED emitter ranges: 1X, 250X, 500X and as high as 1000X and 2000X. If you are unsure what Cree is – Cree is the best in the world for LED bulbs and have patents for there technology where competitors don't even come close!
• Magnetic base utility clip
The product has a built-in magnetic base and utility clip for ease of use. It also comes with a five-hand grip design that reduces fatigue when holding the flashlight for extended periods. The design ensures that the flashlight is held firmly, reducing the chances of it slipping.
Besides this amazing feature, this 1Tac product also has carbon and steel fiber design which holds up when the torch is under any rugged use.
• Made with aircraft grade aluminum
Unlike many flashlight manufacturers, 1Tac uses a high-quality aircraft-grade aluminum material to encase their flashlights. This ensures maximum durability. So with the TC1200 PRO, you can rest assured you have a durable flashlight.
• Waterproof
The TC1200 comes with an IP65 waterproof rating. With this rating, the LED tactical flashlight is water-resistant and can be used in any outside setting. You can, therefore, use it even when it is raining without worrying about it getting damaged. During tests it even functions in a pan of boiling water!
• Digitally regulated brightness
This amazing flashlight has digitally regulated output which maintains constant brightness when in use. This is not the case with other flashlights on the market which tend to get dimmer with extended use.
Again, the TC 1200 will automatically memorize the brightness level used last when you switch it off and use the same level once you switch it back on. The tail switch allows you to select between five brightness levels including SOS and strobe.
• Over-heat protection
The over-heat protection feature protects the flashlight from high temperatures that can affect its performance. The flashlight has been tested on real fire and withstood the flames.
Other features include the zoom in-out function and the anti-roll feature. The tactical tail switch also has a constant-on and momentary-on function. These are just some of the features you wouldn't find on other flashlights.
What Does The Kit Come With?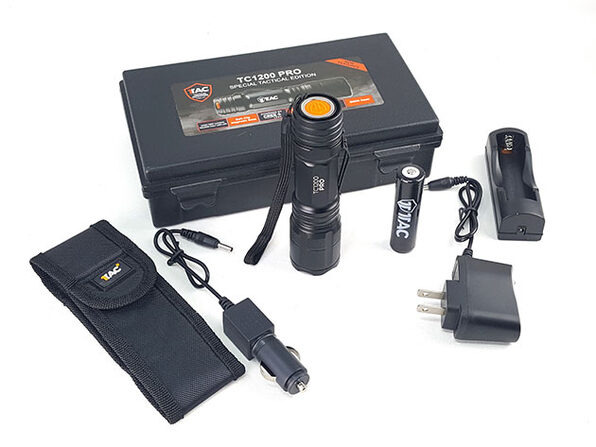 The TC1200 Tactical Kit comes complete with one TC1200 CREE XML-2, 10 Watt, high power flashlight from the most innovative brand in tactical lighting technology.
The TC1200 features a solid-state, US made Cree LED XM-L2 LED technology that generates 20 percent more maximum output than the standard XML T6. With up to 1200 lumens of blinding white light focused by a parabolic reflector into a versatile beam with significant reach and ample surround light for maintaining good situational awareness, it is crucial in any situation.
Your Kit also includes one 1Tac 3.7v 18650 Lithium-Ion rechargeable battery, one battery wall charging station, one car charging adapter, one AAA battery holder, one TC1200 holster, one lanyard, and one protective high-grade storage case.
The value of having your TC1200 set up with the Tactical Kit increases your safety with rechargeable batteries to get the most out of your light and the accessories it comes with makes this KIT a must have for any enthusiast.
The flashlight is suitable for any condition;
As mentioned earlier, this torch is ideal for any conditions and situations. You can use it when camping, fishing, hiking, hunting, or just for roadside safety during the night. And since it is 100% waterproof, you can use even when it is raining heavily.
Uses quality material;
In the previous section, we mentioned that the flashlight is encased in an aircraft-grade aluminum material which makes it durable. It is also important to note that the torch comes with a Premium Type III Hard-Anodized anti-abrasive finish which further contributes to its durability.
Simple design, easy to use;
The flashlight is designed in a very simple manner for ease of use. It is also small in size. Weighing just 5.6, carrying it around shouldn't be a problem. It fits easily into a pocket or purse. The torch runs on one standard Li-ion rechargeable battery, but it also works with three AAA batteries.
Amazingly bright;
TC1200 Pro has 1200 Lumens, a feature you will hardly get on similar products on the market. It also features a U.S-made CREE LED XML2 technology which generates up to 20% more optimum output than XML T6 used by other brands.
Lifetime Money-back guarantee;
Not so many companies offer a lifetime money back guarantee on all their products, but 1Tac does. The company is so confident about the quality of their products that they promise to return your money if you are not happy with the performance of TC1200 PRO Tactical Flashlight.
Why This Flashlight Stands Out
There are many similar products on the market, but this flashlight stands out because of various reasons;
– It is waterproof with an IP65 rating which makes it effective even in water and dusty environment
– It is, on average, 25 times brighter than normal torches
– Has the CREE LED technology with 1200 Lumens? Many competitors do not have this feature
– Comes with five power modes, that is, Low, Medium, High, SOS, and Strobe
– Unlike normal flashlights, TC1200 maintains constant brightness even when used for extended periods